Assessment of the Mobile Money Industry in Kenya
| | |
| --- | --- |
| ✅ Paper Type: Free Essay | ✅ Subject: Business |
| ✅ Wordcount: 3194 words | ✅ Published: 13th Sep 2017 |
A strategic assessment of the mobile money industry  in Kenya: A look at the competition between Safaricom, Airtel and Equitel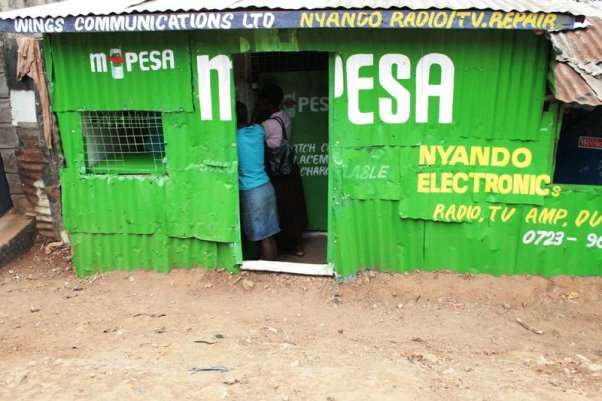 Source: (Martinpasquier.com, 2017)
A report prepared for Equitel
22nd March 2017
Candidate Number: 1012981       Word count: 2,467
Introduction
Mobile money refers to the money held in mobile wallets with mobile telephony providers (International Growth Centre, 2016). First launched in Kenya in 2007 by Safaricom with a platform called M-PESA, the growth of mobile money in Kenya has been phenomenal with the latest figures indicating that by July 2016, there were 26.3million mobile money subscribers in Kenya who had made a total of 227.3 million transactions worth 404.1 billion Kenyan shillings. Similarly, the person to person transactions by this time were worth 429.4 billion Kenyan shillings (Kemibaro, 2017). Perhaps, the greatest triumph of M-PESA has been in its ability to reach low-income Kenyans whose use of the platform rose from less than 20percent to 72percent in 2011 (Helix Institute, 2017). This success, has attracted other telecom providers, notably, Airtel, which has sought to target bottom-of the pyramid with its low-cost model, that offers free transfers to other Airtel users even those on other networks. In addition, the banks have come to view these providers as a threat to their business. It is therefore not surprising that Equity bank, the most profitable bank in Kenya  has rolled out its own mobile money services-Equitel which relies on Airtel infrastructure (Parrin and Parrin, 2017). This strategic assessment report seeks to assess the strategies of key players in this industry and make recommendations to Equitel, as it seeks to grow its market share.
Industry Overview and Analysis
Industry overview, lifecycle and market share concentration
The mobile money market in Kenya is still dominated by one player, namely Safaricom's M-PESA, which still has 77% of market share. Its closest competitor Airtelmoney has less than 5 million subscribers (14%) market share, MobiKash with 6% and Equitel with the remaining 3%.  That said, the services provided by each of the above companies do not significantly differ. This industry has a high market share concentration with a near monopoly by Safaricom (Economist.com, 2017).  The market is still growing and is yet to reach maturity.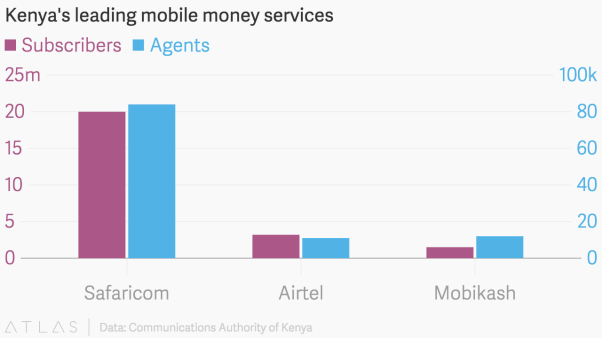 Source: Communications Authority of Kenya
Porters' Five Analysis of the mobile money industry in Kenya
A good starting point for any new actor, like Equitel, is to understand the underlying industry structure.  To do this, we shall rely on Micheal Porter's Five Forces Framework for Industry Analysis (Porter, ME 2008) This is important, as it will help us understand the key players in Kenya's mobile money industry, their strategies, the key drivers of profitability, whether Equitel should seek to increase its market share in this industry and what competitive strategies, it should adopt.
2.2.1 Threat of new entrants/Potential competitors-Low
In this industry, there is a low threat of entry as the barriers of entry are high enough to discourage new competitors. For example; Safaricom enjoys significant economies of scale advantages. For example; their mobile money product M-PESA benefited from the fact that the company has a near monopoly in the market with over 11 million mobile phone advertisers (Financial Times, 2017). Secondly, the company has used its existing airtime distribution network to consolidate its M-PESA agent network (IFC, 2009). The capital requirements for this industry; particularly in infrastructure is huge. This serves as a deterrent to new players.
2.2.2 The power of suppliers-Low to moderate
Every mobile money service provider is expected to partner with a bank since the e-money has to be backed up by funds in a bank account. Safaricom with its size and clout has the capacity to take advantage of these banks. Consequently, their power and those of other suppliers is low to moderate.
2.2.3 The power of buyers-Low to Moderate
This industry has many customers/buyers. A recent report put the number of mobile money subscriptions to 28.7million (User, 2017). This makes it extremely difficult for these buyers to organize and seek any significant concessions from the mobile money companies. Although mobile money is a fairly standardized product with limited low switching costs, most consumers would be unwilling to do so. That said, many customers, particularly those at the bottom-of-the pyramid are price sensitive and would be happy to pay less.
2.2.4 Threat of substitute services: Low to Moderate
Substitute services about including micro-finance institutions, money remittance companies and more traditional methods of money transfer. However, it would be difficult for consumers to switch from a provider like Safaricom due to 'network effects'
2.2.5 Intensity of Competitive Rivalry: Low to Moderate
On the basis of the above, we can conclude that this is an industry that has a resemblance to a monopoly with Safaricom's M-PESA having a market share of over 70%. However, the customers' switching costs are low, which creates a lot of pressure for the market leader. Safaricom however, has some competitively valuable resources and capabilities that do not make it an easy target for competitors. On the whole, this industry is yet to approach  or over-capacity; leading us to conclude that profitability in this sector can be moderate to high.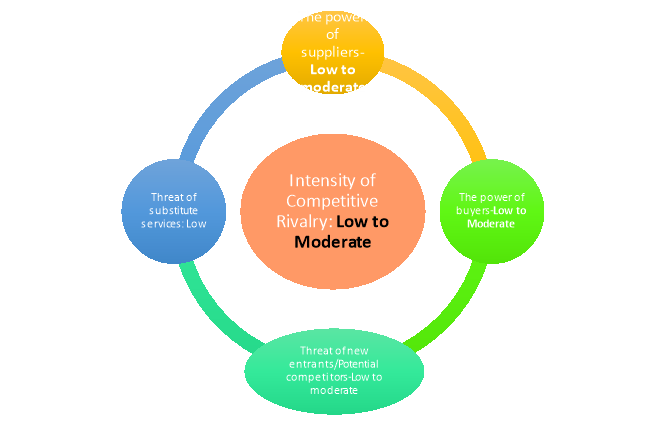 Competitively valuable resources and capabilities of the major players (150)
In assessing the different actors in this industry, we shall start by looking at those tangible, intangible resources and capabilities that are difficult to copy, do not easily depreciate, cannot be easily substituted and  are better than the competitors' resources (Montgomery, 2008).
M-PESA Safaricom's resources and capabilities
The most salient tangible asset possessed by Safaricom is its extensive agent network which follows an aggregated model (IFC, 2009). The master agents at the very top include airtime resellers, but also include branches of Equity bank. This is followed by retail agents, who are recruited and managed by the master agent. This model has helped Safaricom benefit from a diverse network, but only deal with a small group of master-agents.
Agent aggregator model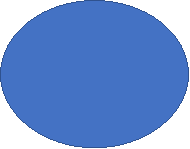 Retail Agents



Master Agents

Banks

Sales team
The other resource enjoyed by M-PESA is Safaricom is its excellent mobile money platform developed by the British software firm, Sagentia. The excellent design of the M-PESA platform has been crucial in determining success in a lot of other areas including; distribution, business processes and organizational structure. However, the most tangible resource possessed by Safaricom and its M-PESA product is its huge subscriber base of over 20 million people. M-PESA has also benefitted from Safaricom's brand which
Airtelmoney's resources and capabilities
On its part, Airtel's greatest resource is its network infrastructure and transmission equipment, which it recently upgraded at a cost of USD$209m. This has attracted partners, including many Virtua Network Operators (MVNOs) like Equity Bank who lease their equipment(http://www.hydrant.co.uk), 2017).
MobiKash's resources and capabilities
Mobikash's recently launched interoperable mobile money platform  working across all four GSM networks (Safaricom, Airtel, Orange and with a number of financial institutions are a revolutionary capability that has enabled them to gain a 1 million subscriber base in a two year period (The Standard, 2017). Integrating existing financial institutions, mobile money providers and other stakeholders to make this an interesting value proposition to clients.
Equitel's resources and capabilities
Equitel bank has some parenting advantages from Equity bank which  is one of the largest banks in Kenya with a customer base of over 8million. In addition, Equity has experience working with mobile money agents through its well-known brand-M-Kesho.  Further, the collaboration with Airtel Kenya is going to make it a credible competitor to Safaricom. Their experience in using data analytics to develop new financial products will also come in handy here.
Corporate strategies of the key players 200
As the market leader (with 77% of the market), M-PESA Safaricom's strategy has always been to rely on its strategic capabilities to increase and at the very minimum, maintain its market share in the Kenyan mobile money market. It has tried to accomplish this through a mixture of market and non-market measures: For instance; for a long time, it excluded the products of its competitors from its M-PESA retail stores, it also levied high fees on users not subscribing to Safaricom; among others (KWAMA, 2017). Moreover, the vague legal regime made it easy for them to adopt all kinds of uncompetitive measures. This changed with Airtel's entry into the Kenyan Market. Airtel sought to also capture this untapped market through a combination of market and non-market measures. First, the non-market measures; it has filed legal complaints against Safaricom with the Kenya Competition Authority complaining about anti-competitive practices that seek to entrench their monopoly in the industry. In response, the Kenyan Government has drafted a new law encouraging interoperability among mobile money operators due to its strong network effects and potential of advancing the financial inclusion of the unbanked (User, 2017). In addition, Airtel has adopted a low-cost business model that enabled to charge zero transaction fees for all mobile money transfers (Techmtaa, 2017).  In response, M-PESA Safaricom has sought to diversify into new service lines. Indeed a recent study indicates that whereas M-PESA generates 4.3 times revenue tham airtime commission, its Return on Investment (ROI) is lower due to the cost of running this service.
Sources of growth in the market
The sources of growth in this market include: a robust agent network-A number of studies now confirm that having a very good agent network is vital for success of any actor in the mobile  money industry in Kenya. Agents can be looked at as part and parcel of a company's service distribution network (Mas and McCaffrey, 2015). The second source of growth is the customer base. Any company that wishes to succeed in the domestic market needs to grow its customer base. That said, it is important that the number of agents and the number of customers grow proportionally. It is also important that the mobile money provider invests in improving the quality of these agents through; improving the screening and selection of agents, building the entrepreneurship skills of agents through training and mentoring, improving agents' liquidity management skills and improving the branding and customer care of the agents.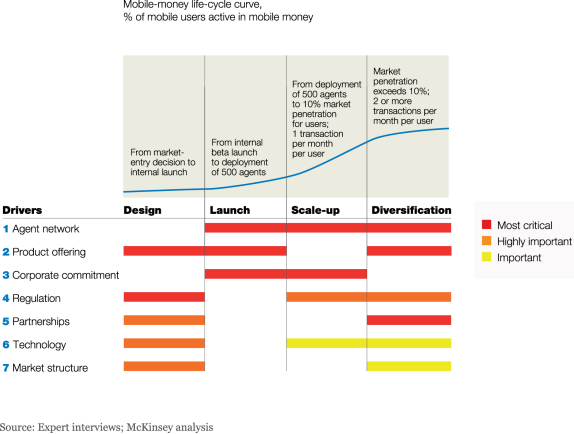 Mckinsey (2017).
SWOT analysis of Equitel's business model for strategic assessment
The table below summarizes the SWOT analysis (strengths, weaknesses, opportunities and threats) for Equitel that we have conducted as part of this strategic assessment to inform its strategies.
Strengths

Weaknesses

Equitel already has 2 million subscribers
Strong 'parenting advantage' due to its association with Equity bank
A strong physical infrastructure due to its lease agreement of Airtel Kenya's
A 0.1mm thin SIM card which can be used with any other standard SIM-card
Ability to link mobile account with as many bank accounts, as possible
Very low service fees
Possibility to offer loans to customers.
14,000 strong agency network that has previously supported Safaricom's M-PESA

Very limited agency network
The customer base is still narrow
Poor data plans
Long queues at branches to solve customer issues

Opportunities

Threats

Possibility to rollout in East Africa
Interoperability guidelines likely to result in more customers for the company

Strategic security partnerships between Safaricom and the Kenyan government
Legal suits and challenges from Safaricom
Cut throat competition and retaliation from Safaricom
Source: own research
Strategic Implications and recommendations for Equitel
Based on the assessment and analysis of the mobile money industry using the five forces of competitive position, we wish to advise Equitel on how to best position itself for success in this market:
8.1 How Equitel should respond to the entry of new entrants/Potential competitors?
As earlier mentioned, this market has high barriers to entry and therefore the threat of entry by new actors is low.  This is due to the huge costs infrastructural costs that new entrants have to incur in entering the market. That said, the recent approval of mobile virtual operators in the market substantially lowers these barriers. Therefore Equitel, as a new entrant into this market needs to do the following. First, it should invest in creating loyalty with its customers through creating a recognizable brand image. Secondly, it needs to create alliances with linked products or services. The fact that its sim-card can work alongside existing sim-cards is a plus. Then it should also engage in retaliation tactics against Safaricom's aggressive behaviour. For instance, it should respond strongly to law suits and file its own lawsuits with the Competition Authority of Kenya, as a deterrent to Safaricom and other competitors who may wish to adopt such uncompetitive tactics.  It also should link up with suppliers, like it has done with Airtel to not only leverage infrastructure but also existing industry relationships.
8.2 How Equitel should respond to the entry of buyers and suppliers?
In order for Equitel to reduce the power of suppliers and buyers, it is imperative that it has more control of its supply chain. This means, for instance, looking at reexamining the power that Airtel may exert over it in the future. Whereas, this is a partnership is a good strategy for market penetration; once this is accomplished, it may be possible that Airtel may exert a lot of influence over Equitel through pricing for its infrastructure. Therefore Equitel could consider acquiring a small player in the telecom space with the requisite infrastructure, such as Wanainchi tecom or even Liquid telecom. The other way, to reduce the power of buyers is to increase their loyalty to their product. This can be accomplished through designing a product that increases their loyalty to the Equitel product. A detailed customer needs assessment to understand what different customers value the most, would be crucial. What is clear is that mobile money transfer and payments from the people
8.3 How Equitel should respond to the threat of substitutes and overall competitive rivalry?
Equitel needs to adopt non-market strategies, as a compliment to its marketing strategies, in responding to Safaricom's attempts at fending off competition. For example; Safaricom's petition to the Global System for Mobile Communications (GSM) technology over Equitel's new thin SIM card and its recent moves to double the commission paid by Equitel subscribers transferring money to M-PESA subscribers (Daily Nation, 2017); need both a legal challenge and a market response. In addition, Equitel should work to accentuate its differences with M-PESA in the minds of consumers; while lowering switching costs for M-PESA users who wish to subscribe to Equitel.
Conclusion, implementation strategies and addressing biases
In conclusion, is important that Equitel is not tempted by the moves of Safaricom into premature diversification. It should focus on building a loyal customer base before trying to diversify into new areas to attract new customers; otherwise it risks confusing customers and diluting its marketing message. Equitel needs to also consider the principle of complementarity, non-convexity and non-concavity, very carefully (Roberts, 2007). In other words, it should seek to implement complimentary strategies that fit with its structure.
Cite This Work
To export a reference to this article please select a referencing stye below:
Reference Copied to Clipboard.
Reference Copied to Clipboard.
Reference Copied to Clipboard.
Reference Copied to Clipboard.
Reference Copied to Clipboard.
Reference Copied to Clipboard.
Reference Copied to Clipboard.
DMCA / Removal Request
If you are the original writer of this essay and no longer wish to have your work published on UKEssays.com then please: