Technology Innovation in Watch Industry
| | |
| --- | --- |
| ✅ Paper Type: Free Essay | ✅ Subject: Business |
| ✅ Wordcount: 2380 words | ✅ Published: 13th Sep 2017 |
TECHNOLOGY AWARENESS
INTRODUCTION
Starting a business involves a great planning, financial and management decisions on how to operate the business activities. Business demands furniture, equipment, electronics and nowadays it is near to impossible to operate a business without technology. Technology lies under the external environment that is beyond our control. Today it is hard to imagine a business without technology. Business runs with the technology, they change when the technology change. In today's world, it has become clear that technology shifts can radically change time. So, as the technology evolves, a firm must stay put with it.
Trying to carry your business without the automated systems seems very daunting now days. Whether it is about delivering a solution for a project or meeting the deadlines, it can all be fulfilled efficiently if we are connected with the mobile devices. I Therefore, technology is the number one force that is changing the business landscape. Even though the business has no concern with technology, it still is at some point, influenced by its changes. Business operations, processes and structures are changing due to result of innovations in technology for example laptops, smart phones, cloud computing and wearables.
SAMSUNG GEAR S3
One of the most important technologies having great impact on business nowadays is the Smart Watch. They have been around for a few years for now but has greatly changed the way business work. It functions beyond the timekeeping and is capable of doing almost everything whether it is to make a phone call or get directions or connect to your phone from afar. It is capable of working for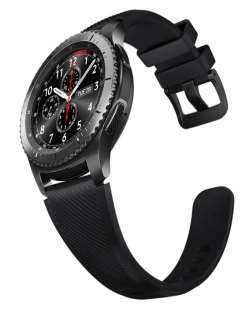 days without the need to recharge your phone. With the help of the bezel, you can answer your calls, save reminders to meet your deadlines, check you emails.
Owning a smart watch allows you to integrate apps and extend usage of all your smart devices. Now stock markets can be monitor from any corner of the world and meetings can be rescheduled before time, performances can be monitored.
The successor of Samsung gear S2, Samsung gear S3 comes with classical look with 50% more RAM and 50% increased battery life. (Vergara, 2016)
The top rated companies are designing smart watches today that are not limited to just one corporation or one product. It'll help to reconnect with the people within and outside the organization with the ability to inform any passerby of your offers, sale, promotion or discount, the implications of widespread use are of great importance to small business owners. According to Llamas "75% of It decision makers believe that apps for business will become a priority". Through the growing use of smart watches every day, it is worth consideration in the workplace when exploring new ways of productivity in an employee for organization.
GPS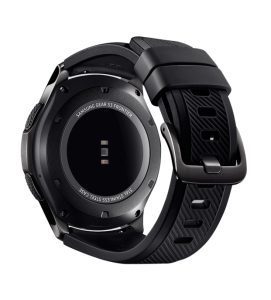 GPS is one of the most useful features when we talk about smart technology, but not many watches are GPS enabled. Samsung Gear S3 is one complete smart watch with GPS. You can check the distance you have covered, where you are, where you have to go. For a supplier, when he is to drop some stuff in a new area, GPS jumps in to take care of all the locations that need to be provided, when transportation service has to drop off a passenger, the GPS navigation system is capable of receiving information from the satellites and thus guides the driver to reach the right location, and there are many other usefulness examples for the business world. It can be connected to the computer for logging, mapping and sharing data. There are several uses for GPS in an organization. Missing a small meeting can cost you sometimes a great fortune, and if you are driving by a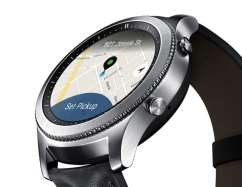 new route and somehow you get lost on your way to reach the meeting spot, the GPS comes in handy to help you get through with this. Using GPS can save you from getting lost on new roads, new city or even new country. We might be all familiar with the statistics of the working woman which tends to be increasing every day and normally play two roles- as a housewife and as an employee. Such women can monitor their children from work instead of taking the day off. GPS is a great help to the managers, they can monitor the work of their employee like who is on their construction site today, where are the delivery guys roaming in the city, or where their workers are for their installation services. You can track your vehicles in order to be sure your vehicles are not misused, track workers down if they are off duty taking long breaks. Thus it is now becoming a help to strengthen your control over the organization. Other than tracking your own employees you can provide a little assistance by planning their route before they make a trip. This allow you to feel more at ease by finding them efficient routes to reach their clients so they can be as quick as possible. Delivering service based companies can track down the location of their customer and give them quick and accurately estimated time to reach their doorstep. Every firm is looking to spend less and earn more and gain more and more productivity from every dollar they are investing. In this case, GPS will lower your costs and enhance productivity. This will also make a business in the leading competition. Every little advantage that you bring into your organization can be advantageous.
TIZEN- The OS of Everything
The Samsung Gear S3 works on the Tizen operating system. Tizen includes in many Samsung devices like TVs and wearables like smart watches.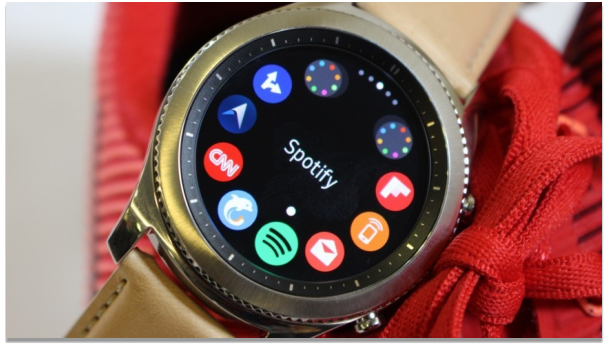 One of interesting feature about this watch is that it is compatible with the phones with Samsung phones (having Android as their OS) and other phones of Android as well. (Tizen) Moreover, iPhone is also going to support as well which takes its accessibility to an interesting proposition. It is the open source OS for all device areas. The developers of Tizen include Linux Foundation, Tizen Association, Samsung and Intel. (Wikipedia, 2017)This watch offers more than timekeeping and for much longer battery life.
Get Help With Your Essay
If you need assistance with writing your essay, our professional essay writing service is here to help!
Essay Writing Service
Through this OS, the smart watch users can work with device partners to customize the OS and user experience to meet the needs of specific segmentation of customers and demographics. The system provides numerous features that can enhance the productivity of a business. Starting with the Base of Tizen that contains Linux based essential system libraries providing key features like database support, internationalization. Then come its connectivity related functionalities such as 3G, Wi-Fi, Bluetooth, HTTP and NFC (Near Field Communication). This is a highly demanded feature of this system in today's market. Wi-Fi, 3G, connectivity. Today 74% of the business demands for "bring your own device" policy. Because this enhances your marketing activities, connects you to the outer world of consumers and your competitors, this will result in consumers awareness about your firm, they will be capable of recognizing and recalling your organization, bring you closer to your customers,  and resulting in great expenditure to your company which is the ultimate goal. It will improve perception of consumers towards your business and make you good profits. (Business, 2016) The latest version of Tizen also offers new software through which you can be quick responsive to messages or reminders by writing and drawing on your display. (Jarvis, 2016)
This OS also comes with the architecture of location to provide you location-based services. One good benefit through the location is that your customers can track you down easily. Imagine the time without location services, a customer would wander here and there looking for your outlet and if they don't fine one they'd settle for an alternate but by updating your location, you are again more connected to your customers. So, a specialized employee could only describe and tell where you are located, putting consumers at ease.
Business and customers need secure and reliable systems to work on it and Tizen is on it again. It has exceptional security features responsible for security deployment across the system. It is comprised of platforms of security enablers, like anti-virus framework, access control etc.
The Tizen has a lot to offer to shift the paradigms of an organization. With all the features we have discussed, Tizen also has telephony module for business operations. It consists of cellular functionalities communicating with the brand.
Managing call related and non-call related information and services
Managing SIM application toolkit
Managing packet service and network status information
Managing other files, notes, phone book , and security
SAMSUNG PAY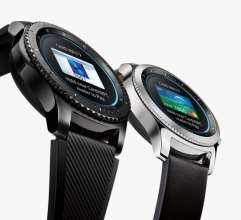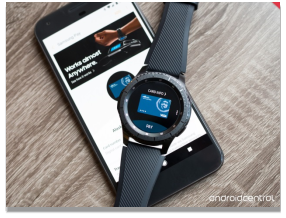 The Samsung Gear S3 has more capabilities than to provide you what all other smart watches does, its capabilities include more than GPS, and slightly larger screen which offers you to go to pretty much any pay station at major retailers and be able to pay using the built-in Samsung Pay. Using NFC and MST, you can make any purchase by tapping your watch against a card reader. It also has some security features. One of the main features is that it requires you to add a PIN into your watch and this makes sense because if you are wearing this watch and paying for stuff through this, it is working as your wallet so you can keep it secure. One of the key features about the security is that it doesn't prompt you during the day if you have the watch a lot on, means if you have your watch on you unlock it and it will work for a day but once you take it off it immediately asks for the pin, which is indeed a great secured feature. The another security feature makes you set your credit cards on your watch all over again even if you are using one through your phone. The Samsung pay app you use to pay through your phone and the one in your watch have a few differences in their app designs and functionality. The look and fields are different in the gear S3 app, on your home page, you will have your credit card that you registered, and your transactions are stored separately from the ones done through your phone and your watch. So even if you go to buy groceries and don't choose to carry your phone and make purchase through your watch, it will still be recording separately.
Step to pay through your Samsung gear S3's Samsung Pay:
You open Samsung Pay on your watch
Rotate your bezel to select your card
Tap to "PAY" to initiate the contact with the magnetic card reader
Hold near the Card Reader or NFC reader.
This feature of Samsung puts its customers at ease especially in the business world. You can use the payment service from a coffee shop to the grocery stores. It allows you to use your credit, debit, gift, membership and rewards cards. (SAMSUNG) In a nutshell, the Samsung pay is an application capable of replacing your wallet with secured features and the time has arrived that people can bid farewell to their wallets and forget about the fear of losing their wallets or being stolen.
CONCLUSION
We are living in the world of new technologies that will catalyze the evolution of business operations. However, their implication and impact in the market still rates low on the scale. A research conducted on the growing use of technology came with the results that using this have often resulted in positive monetary impact. Therefore it is more applicable to business operations to accept all challenges and shift their paradigms. (Genpact, 2014)
As with any other important factors that keep businesses running, considering the advancement in technology implementation should be ensured to meet the goals and objectives more efficiently. It is important to be innovative when it comes to technology to manage a company's budget, to monitor your company's statistics, to keep track of your own statistics, and to pay for your purchases more efficiently.
REFERENCES    
Business, C. (2016, May 27). How offering free WiFi can boost profits. Retrieved from Business Insider.
Genpact. (2014). The impact of technology on business process operations. New York: Genpact Research Institute.
Jarvis. (2016, November 19). SAMSUNG GEAR S3 : ESSENTIAL GUIDE TO THE NEW CLASSIC SMARTWATCH. Retrieved from GearOpen: http://gearopen.com/gears/samsung-gear-s3-essential-guide-to-the-new-classic-smartwatch-44108/
Samsung. (2017, February 10). Samsung Pay on Gear. Retrieved from Samsung: http://www.samsung.com/us/support/owners/app/samsung-pay-gear
SAMSUNG. (n.d.). TURN YOUR PHONE INTO YOUR WALLET. Retrieved from SAMSUNG: http://www.samsung.com/us/samsung-pay/
Tizen. (n.d.). About. Retrieved from Tizen: https://www.tizen.org/
Vergara, J. (2016, September 03). Samsung Gear S3 vs Gear S2 comparison. Retrieved from Android Authority: http://www.androidauthority.com/samsung-gear-s3-vs-gear-s2-comparison-714588/
Wikipedia. (2017, March 12). Tizen. Retrieved from Wikipedia: https://en.wikipedia.org/wiki/Tizen
Cite This Work
To export a reference to this article please select a referencing stye below:
Reference Copied to Clipboard.
Reference Copied to Clipboard.
Reference Copied to Clipboard.
Reference Copied to Clipboard.
Reference Copied to Clipboard.
Reference Copied to Clipboard.
Reference Copied to Clipboard.
DMCA / Removal Request
If you are the original writer of this essay and no longer wish to have your work published on UKEssays.com then please: