Self Reflection and Proposed Professional Development Plan
| | |
| --- | --- |
| ✅ Paper Type: Free Essay | ✅ Subject: Personal Development |
| ✅ Wordcount: 2655 words | ✅ Published: 7th Apr 2021 |
This assignment will review my Learning & Development Plan for next 12 months to enable me to progress through a training program Master of business administration in a proper and organised manner.
Briefly I will describe the Big picture about what is happening in the world and in the industry of my profession. Specific the Mega trends and Challenges from several dimension following with PEST analysis. In the assignment I will focus on my Goals, how I see myself in this profession, my professional values, ethics and social responsibility, socio-cultural and personal competencies, managerial and technical competencies and competencies needed.
The last part of the assignment will review proposed professional development plan, SWOT analysis and formulation of strategies.
At the beginning of the "Reflective – Essay" I would like to introduce myself. I was born in the Czech Republic where I spent most of my life with my supporting and lovely family.
Since my childhood I have been interested in sports, mostly in hockey and tennis and it has stayed with me until my adult age. When I was 14 years old I was nominated to the national hockey team where I spent next 4 years and I really enjoyed this period of my life and I learned how to be a team player. As the national hockey team we participated in many of the European cups.
Get Help With Your Essay
If you need assistance with writing your essay, our professional essay writing service is here to help!
Essay Writing Service
After I graduated in a College of management for business and industry in 2002 I chose an international company where I started to work as an assistant of purchaser of sports clothing. I chose the company because I have really strong connection to the sports and the position because I have been interested in the international business. While I was working there as an assistant I had very strong passion to learn more about the international business and I participated in many of training lessons about the international business. The company saw found me as an employee who has very strong passion for the job and the company had given me the opportunity to be promoted as a purchaser.
On the position as a purchaser I got a lot of responsibility for my job. My main duties were to select the right products for the Czech market, prepare the purchase orders under the proposed budget, supervise the planned turnover and sales plan, work on the budget based on previous sales statistics and achievements, monitor the stocks, determinate sales prices, discounts and clearance sales, monitor competitors, negotiate contracts and policies with suppliers and analyse the market and customer needs. At this part of my duties I found myself very strong in numbers and I achieved very good results in budgeting, planning of turnovers and in choosing the products. As I mentioned I worked in the international company with the head office in Austria and I realised I was limited with my major managers in my plans and decisions and sometimes I wasn't able to enforce my ideas and I had to follow the decisions of my major managers even I knew the Czech market very well. Here I found out myself as a not enough strong employee and I was also missing the support from my boss.
The next part of my duties was to coordinate with the marketing department. Our cooperation was about to visualize the company with products what we are offering to customers. The cooperation was about to prepare the plan of the marketing activities with the right products and with the combination of best quality and price. During the cooperation with the marketing department I found out that I have to learn more about the marketing principles and how to get the customer attention.
In this company I worked 9 years and I really enjoyed the time. I learned a lot and I found out about me that I am very responsible person with the passion of the learning new things and for this reason I decided to improve my knowledge and skills with the study based on program Master of business administration and to improve and avoid the gaps in my path to be a successful professional purchasing manager. After the graduation in the course Master of business of administration I want to come back in to the same field "purchasing".
A period of greater political uncertainty has occurred in the world. The impacts on global economic growth and business performance might come from different sides of the world. The European Union is expecting the Elections in the largest Eurozone economies (Italy, Germany, and France) which can affect and threaten the existence and connection of the European Union. The migration crisis in Europe has been continuing and the opinions of the voters are more radical consequently to the migration crisis. Probably soon the Great Britany will apply for the process of the leaving the European Union. There is a question "Will survive the European Union or will dissolve?" after leaving the Great Britany. A divided European union will be big advantage for Russia to consolidate Russian's influence in its borderlands. (ref. http://www.theworldin.com/edition/2017/article/12575/world-2017 ; http://www.news.com.au/finance/economy/world-economy/world-predictions-2017-is-weakens-further-russia-china-us-face-uncertain-times/news-story/e110b20a288ed3326576d6ec911cc000 ; 16.03.17)
Americans had already voted for new president and the dramatic Elections of the new president won Donald Trump. Mr Trump promises he will back away from overseas obligations and get the rest of the world to do more across the globe. (ref. http://www.theworldin.com/edition/2017/article/12575/world-2017 ; http://www.news.com.au/finance/economy/world-economy/world-predictions-2017-is-weakens-further-russia-china-us-face-uncertain-times/news-story/e110b20a288ed3326576d6ec911cc000 16.03.17)
For some reasons the year 2017 might be more difficult for investors. Importantly, the strong US economy will almost certainly result in higher official US interest rates. This will present difficulties for those countries, including Australia, that are dependent on inflows of foreign capital. For Australians, the biggest concern is an adverse impact on our major trading partner, China. Continued strength in Asian economies is particularly important for both commodity prices and the world economy because of the likely problems in the European Union. (ref. http://www.smh.com.au/money/investing/the-outlook-for-the-australian-economy-and-investors-in-2017-20161208-gt739k.html ; 16.03.17)
2017 might be a period of uncertainty. Caution will be needed.
In this part of my L&D plan I will focus on the industry Wholesale and Retail trade in the profession as a purchaser. The internet website Joboutlook.gov have published national statistics about Wholesale and Retail trade in employment conditions.
The national statistics have indicated that the job offerings in Purchasing and Supply Logistic Clerk are expected to be more than average for the next 5 years. They are talking about 25.000 – 50.000 job offerings. The job prospects for this occupation will be steady for next 5 years in comparison with the previous years. Purchasing is very large occupation with the availability of jobs opportunities in most regions. The proportions of full time jobs in purchasing are above average. (ref. http://joboutlook.gov.au/occupation.aspx?code=5911&search=industry&Tab=prospects )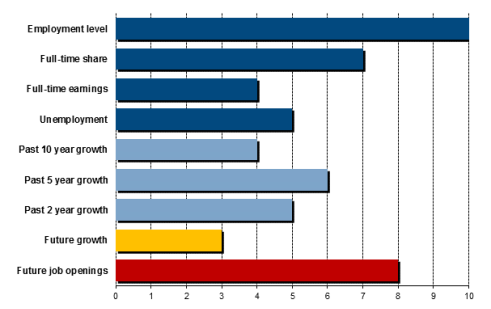 PEST Analysis of Wholesale and Retail trade   
(P)olitical
The wholesale and retail trade might be influenced by political factors as tax, the stability of the country, legislations.
(E)conomical
The wholesale and retail trade has been influenced by the economic growth, unemployment policy, consumer confidence, inflation, interest rates.
(S)ocial-Cultural environment
The Wholesale and Retail trend in social-cultural environment might be influenced very strongly by lifestyle changes, demographic, population growth, living conditions, income distribution, fashion changes and foreign investment.
(T)echnological environment
Innovation of technology, changes in information technology, supply chain mechanism
Goals
I have acquired the essential experiences as a purchaser and I have had very good background of purchasing to improve my knowledge in my profession and to become a manager of purchasing.
My goals I can divide in two periods such as short term goals and long term goals. In the case of the short term goals one of the goal is to continue with the study Master of business administration and to decrease my gaps of knowledge and skills for the future employment, which I found out through the L&D application. Next short term goal is to be the part of purchasing in any organisation or institution in Sydney such as an employee or to get an internship in any organisation or institution. I will keep going with searching and applying for the job in the purchasing department.
After graduation at APIC institution I will aim for my application of temporary residence which will make me able to work full time. With full time work rights I can get job as a purchaser or I will try to be promoted in current company. But I don't limit myself with the thought that I have to stay in Australia. I will try to apply for the manager position in other countries with the well economic stability.
Every professional has to identify and acknowledge personal values. We can identify plenty of values but I will concentrate on the common values of professionals.
A problem solver: as a professional in any company we have to solve a problem after next problem. A good problem solver will concentrate on the finding the right solution than to prove if she/he is right at all costs. Good problem solvers will see the problems as challenges and to experience from them. They know how to easy define the problem and they don't build the issues for others. (ref. https://www.entrepreneur.com/article/246480 ; 19.03.17; http://www.inc.com/kevin-daum/8-things-really-great-problem-solvers-do.html ; 19.03.17)
Ambitious: is very strong value and can be very powerful for any organisation. Ambitious people always see new goals and they have the drive to achieve them.
Transparent: the value to be transparent through the behaviour such as honest, open and direct in any conversation help to reduce the wasting of the time. (ref. http://www.blog.getmotivatedforsuccess.com/getmotivated/wordpress/3-characteristics-of-ambitious-people/ ; 19.03.17; https://www.entrepreneur.com/article/246480 ; 19.03.17)
Empathetic: I rate the empathetic value as the one of the best professional and personal values. The skill to sympathize the problems that others deal with is a character which I really admire. (ref. https://www.entrepreneur.com/article/246480 ; 19.03.17)
Focused: if we are focused and we don't do too many things in one time we will do something really well. In environment where people are focused and putting the emphasis on this value will spend their time more productively. (ref. https://www.entrepreneur.com/article/246480 ; 19.03.17)
Be respectful of confidentiality
Set good examples
This case study measures my Socio-Cultural competencies in percentage and the graph compares my current competencies vs. my targeted competencies.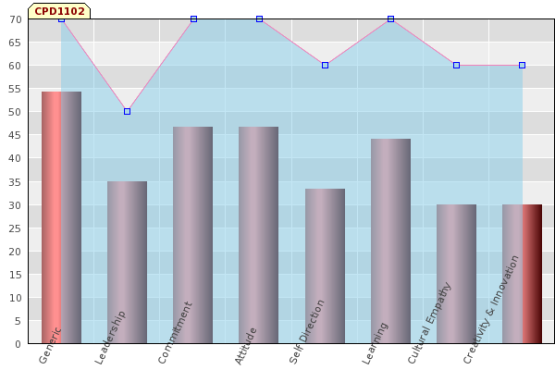 This case study measures my current competencies vs. targeted competencies.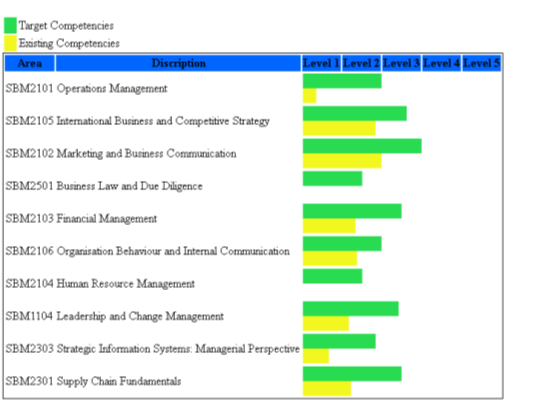 The overview shows what my current competencies are and what my targets of the current competencies are.
There are some competencies without any existing knowledge such as Business Law and Due Diligences and Human Resource Management. These competencies I will have to improve and study through the study program more intensely. Next significant gaps I found out in Operations Management, Strategic Information System, Leadership and Change Management, Supply Chain Fundamentals.

The proposed professional development program will guide me to complete the study Master of business administration and to improve my knowledge, decrease my identified gaps of socio-cultural competencies and in managerial and technical competencies.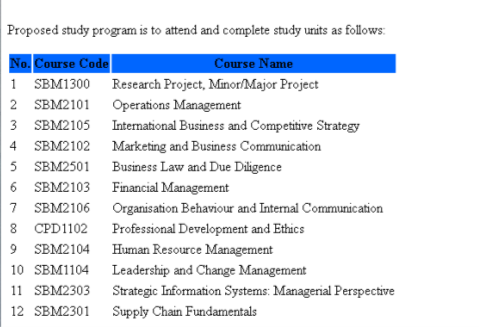 Strengths
The passion to learn new things and to educate myself. Experienced in problem solving. Very responsible for any commitments and ability to motivate people. Improve my knowledge and decrease the gaps in my Socio-cultural competencies, Managerial and Technical Competencies through the study program Master of business administration
Weaknesses
Not enough experienced in leadership, above average in self-direction, cultural empathy, creativity and innovation. Not having any work experiences in my profession in Australia.
Opportunities
Improve my competencies with the study program Master of business administration. Get the opportunity to work in any organisation or institution in purchasing department as a employee or in internship program.
Threats
Do not have a job in my profession and not improving but losing my professional experiences.
My plan to complete the study program Master of business administration in next 12 months and to achieve my targets is following.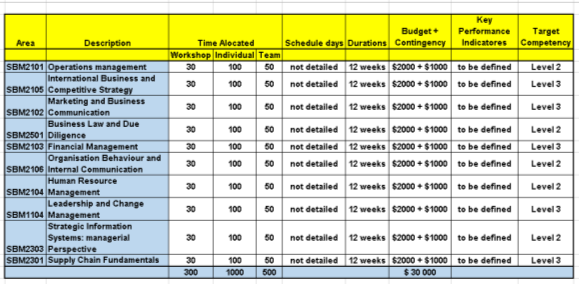 Cite This Work
To export a reference to this article please select a referencing stye below:
Reference Copied to Clipboard.
Reference Copied to Clipboard.
Reference Copied to Clipboard.
Reference Copied to Clipboard.
Reference Copied to Clipboard.
Reference Copied to Clipboard.
Reference Copied to Clipboard.
DMCA / Removal Request
If you are the original writer of this essay and no longer wish to have your work published on UKEssays.com then please: